Ross Adams, managing director of Plexus FS is fundraising for local charity Hands Up For Downs by walking up South Wales' highest peak, Pen Y Fan.
Ross, whose son Archie was born with Down Syndrome, is attempting to raise over £2,500 for the charity and will attempt the ascent on or around World Down Syndrome Day on 21st March (weather dependant).
"Hands Up For Downs (HFuD) has been a huge part of our lives since Archie was born," said Ross, "so we're not only raising money for them but also looking to shine a light on the help and support that's out there for families with Down Syndrome children."
With over 47,000 people in the UK having down syndrome, as well as an average of 1 in every 1,000 babies born with Down Syndrome each year, more and more families are in need of the support and help provided by charities and other organisations.
With support from PADS (Positive About Down Syndrome), an international group that helps parents and parents-to-be of Down Syndrome children, assistance was certainly at hand for Ross and his partner Louise.
"PADS, in particular, was a huge help, especially in the months leading up to Archie's birth," said Ross. "The website was full of advice and signposting of relevant services, but perhaps the most beneficial aspect was the online community where I could speak to fellow Dads who were in the same position as me or those who already had babies born with Down Syndrome," he continued.
When Archie was born, he was assigned a specialist Health Coordinator from the NHS' Child Disability Team, and one of the first things they did was signpost the family to Hands Up for downs, who were the ones to get Archie a place in The Speech Clinic.
As a private clinic, they specialise in therapy for all ages, and fortunately, they accepted Archie when he had just turned one, so he was able to benefit from their expert support from a very young age.
"Without HUfD, we may have had to wait until Archie was 4 or 5 before being able to get NHS-funded assistance, however, with help at such a young age, we are hopeful that he will develop his communication skills far more quickly and give him more opportunities when he is older."
To thank HUfD for all the support they have given, Ross, his family and work colleagues have used the last 2 World Down Syndrome Days on March 21st to raise funds for the Charity.
"Last year, we raised over £800 by holding a raffle in work and encouraging all staff to wear brightly coloured odd socks," he said, "and this year, a group of us are climbing Pen Y Fan, and we'll also be wearing odd-socks on the walk."
As a representation of the 3 strands of Chromosome 21, which just so happens to look like a pair of socks, "Odd-sock-day" as it is known is celebrated internationally as a way to raise awareness of Down Syndrome and is celebrated on the 21st March each year.
Ross is hoping to raise over £2,500 through his Just Giving page to help HUfD send other children to The Speech Clinic, so for those who may wish to donate, the link is below:
https://www.justgiving.com/crowdfunding/hands-up-for-downs-wdsd23?utm_term=KGyMaKWEm
The awesome Archie rocking his Hands up for Downs T-Shirt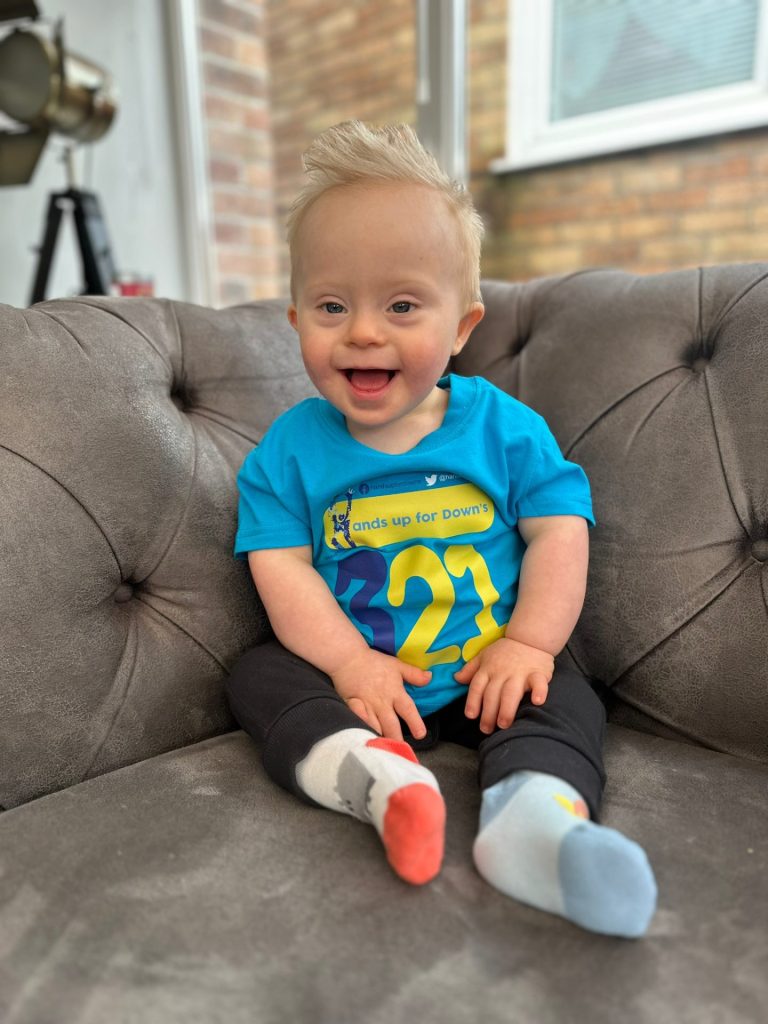 Team Plexus celebrating World Down Syndrome Day 2023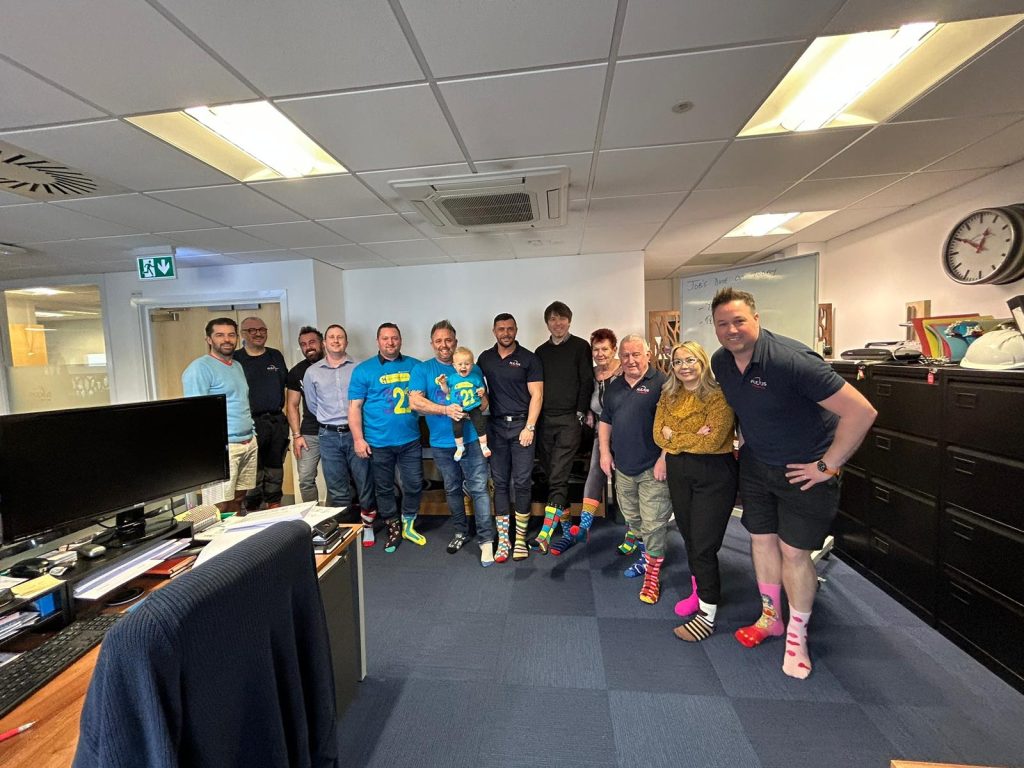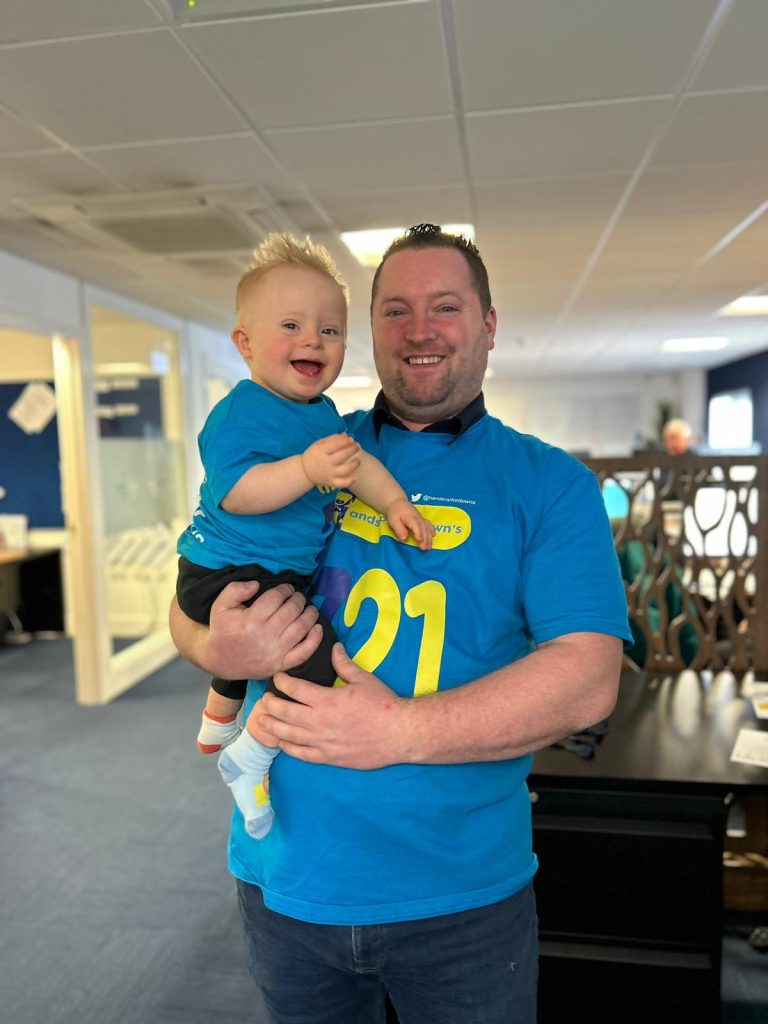 Team Plexus raised over £800 for charity during World Down Syndrome Day 2022